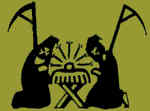 Synopsis
In an act of utter sacrilege, the denizens
of an inner-city soup kitchen are ruthlessly
annihilated on Christmas Eve. This un-
holy act marks the beginning of a new
reign of chaos over the Earth.
But mankind has an unforseen defense
against thos apocalypse -- the Cenobites
Atkins, Balberith and Face. These three
unlikely heroes must find the cause of this
calamity before it's too late.
Wish them luck. Your very soul may
depend on it...
Stories

A Christmas Puzzle
D. G. Chichester (writer)
Dan Lawlis (artist)

Child's Play
Sholly Fisch (writer)
Steven J Buccellato (artist)

Nursery Crime
Frank Lovece (writer)
Mike Okamoto (artist)

Sheddim
Ben Schwartz (writer)
Tim Conrad (artist)



---

Cover Price: $4.95 USA / $6.25 CAN 64 pages
1992
ISBN # 0-87135-932-4
Consultant: Clive Barker
Published by Epic Comics
All Clive Barker's Hellraiser material copyright Clive Barker