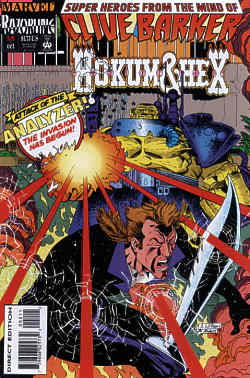 Cover art: Williams & Lanning
Hokum & Hex Intro
Hokum and Hex No. 1
Hokum and Hex No. 2
Hokum and Hex No. 3
Hokum and Hex No. 4
Hokum and Hex No. 5
Hokum and Hex No. 6
Hokum and Hex No. 7
Hokum and Hex No. 8
Hokum and Hex No. 9
A Convocation of Clowns

Synopsis

Standup comic Trip Monoe has had his life put on hold, while the mantle of "Earth's Champion" is foisted upon him — but he doesn't have to like it! And Felon Bale means to guarantee he won't, as the firstline of extradimensional invasion comes to Rockefeller Center!

Trip faces off with the Analyzer!
---
| | |
| --- | --- |
| Created by: | Clive Barker |
| Words: | Frank Lovece |
| Pencils: | Anthony Williams |
| Inker: | Andy Lanning |
| Letterer: | John Costanza |
| Colorist: | Maria Parwulski |
| Editor: | Marc McLaurin |
| Consulting Editor: | Malcom Smith |
| Executive Editor: | Carl Potts |
| Editor-in-Chief : | Tom DeFalco |

32 pages(with ads)
Cover price $1.75 US / $2.25 CAN
October 1993
Created by Clive Barker

All Hokum & Hex material copyright © 1993 Clive Barker
Hokum & Hex is a trademark of Clive Barker
Published by Marvel Comics