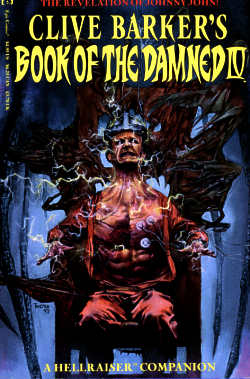 Book of the Damned Intro
Book of the Damned
Book of the Damned II
Book of the Damned III
Book of the Damned IV
Synopsis
Who was the in enigmattic Johnny John? Was he a tortured artist, a prophet, or merely a psychotic killer? No matter what he was, the appearance of the now infamous Revelations remains a mystery.
And here, for the first time, is the complete tome that has, since its creation, spawned a generation of worshipers.
What lies within these covers may shock you and surprise you, and, whether you believe it or not — you're in for one Hell a read. . .
---

Cover Price: $4.95 USA / $6.25 CAN
48 pages
1993
Consultant: Clive Barker
Published by Epic Comics
All Clive Barker's Hellraiser material copyright Clive Barker
ISBN # 0-87135-976-6