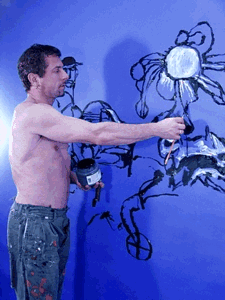 THE ART OF CLIVE BARKER



Clive Barker's artwork expresses an unseen world of fantasy, co-existing with our own reality. His characters, while often physically misshapen and outrageous, portray very human emotions. Perhaps it is for this reason that many people find a deeper meaning within Clive's artwork in a genre too often prone superficiality.
A wide range of styles, from humorous to shocking, from apparent to complex, sketchbook drawings, oil paintings, illustration notes for his novels, and watercolor are all represented in two forms: thumbnail, and 500 pixels wide.
More artwork will be added as time goes on. Keep checking back as brand new, never before published pieces as well as hard to find examples of early work are showcased here.
Please note: This gallery is here for your enjoyment. Please follow the copyright laws in regards to the pieces included within. Duplication and/or reproduction are prohibited except as follows through regular internet use. All rights are reserved by Clive Barker and/or Bent Dress Productions.