Taken from Marvel Age Magazine #107, December 1991

Marc McLaurin and Clive Barker at a Chicago convention.
Photo by Marie Javins.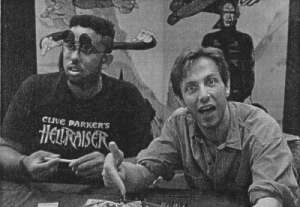 by - Mike Lackey
Stephen King called him "the future of horror." He's sold millions of books across the globe, in over a dozen languages. Some have likened his looks to Paul McCartney, others have compared his imagery to a deranged psycho. But no matter what they say about Clive Barker, there is one undisputable fact that no one can deny. This guy can write.
Barker's earlier works were short fiction, and were later collected in the multi-volumed Books of Blood, the first of many works to see print in the United States. But eventually, that first big story came bursting out, and The Damnation Game was born. The success of this first novel gave Clive the incentive to continue with longer works, and the novels Weaveworld and Cabal soon followed.
Movie offers began to come in, slowly at first. Among these films was Rawhead Rex, about a monstrous-warrior terroriz-ing an Irish village. Finally, Clive was offered a deal to write and direct Hellraiser, a story about love, death, and Cenobites. Clive's brutal visions of Hell have continued to influence filmmakers, now some five years later. The movie did well enough to warrant a sequel. Hellbound expanded on the Hellraiser mythology, serving up bizarre imagery and hideous monsters. The Hellraiser characters proved so popular that an Epic Comics HELIRAISER series took off in 1990, featuring the Cenobites in an anthology format.
Barker spent much of the next year working on his greatest film project to date, Nightbreed, an adaptation of his book, Cabal. Clive served as both writer and director, and the $11 million epic was among the roost expensive horror films ever produced. Nightbreed offered a wide assortment of creatures, and starred Canadian honor director David Cronenberg as a psychotic serial killer. The film later spawned another Epic Comics series, NIGHTBREED, which features the "Breed" in new adventures.
Now, Clive Barker returns with his first novel in almost two years, titled Imajica, and published by Harper-Collins. Also on the horizon are a series of trade paperbacks and poster books featuring the best of the HELLRAISER and NIGHTBREED series, produced, of course, by Epic Comics. The promotion tying this all together "Harvest of Evil," which will take Clive on a tour of the country.
During the course of this nationwide event, Clive will appear in numerous bookstores for signings, and be fea-tured on the television programs Good Morning America and Author! Author!
Part of the promotion will be a heavy push on Epic's new JIHAD title, which features the HELLRAISER and NIGHTBREED characters coming together in a conflict which may destroy them both. Clive's very excited about this series, as it ties the continuity of his two greatest works together. Barker will serve as a consulting editor on the series, which is written by D.G. Chichester and illustrated by Paul Johnson.
Also on the horizon for Clive is Epic's adaptation of WEAVEWORLD, which will be available in autumn, 1991, and the upcoming series, HELLRAISER: BOOK OF THE DAMNED.
Another great "Harvest of Evil" item is the HELLRAISER POSTER BOOK, which reprints some of the best artwork from the series, by some of the industry's greatest talents. Who'd have thought that Pinhead would have a staple in his navel?

Furthermore, a third HELLRAISER film is in production now, slated for a summer 1992 release.
MARVEL AGE MAGAZINE was fortunate enough to wrangle Clive for this exclusive interview.
---
MAM:
Hi, Clive. First up, what can you tell us about your new novel, Imajica?
CLIVE BARKER:
Well, it's a huge book, published by Harper & Row. It's 825 pages, and it's a massive fantasy epic. It's exactly the sort of work that people have begun to associate with me, in that it's filled with strange worlds and strange people. It's filled with eroticism and dark imagery.
It's also probably my most optimistic book to date, and it certainly covers the widest canvas. It is set in five different worlds, one of them being earth, and Imajica is the collective name for those worlds. I've just gotten oft the phone with my publisher and the book, although not even out yet, is going in for a second printing. There's just been a tremendous response.
MAM:
It's been a little while since your last book. Where have you been?
CB:
Well, it's taken me 18 months to write Imajica, and I've been very de-manding. Just before that I wrote The Great and Secret Show which probably took about 10 months. This book is so huge, that the mythology took many months to create. There are literally hundreds of characters, and many diffe-rent worlds described in great detail. It's not the sort of thing that you can simply dash off.
I hand-write everything. Now, I've done three drafts on Imajica, which comes to about 14,000 pages. When you're working on a novel, you really must give your life over to the project. This is my eleventh book, and I'm fortunate to know that the audience is there for it. I'm not just writing in the dark.
MAM:
Well Mrs. Tolstoy hand-wrote three different drafts of "War and Peace" by hand.
CB:
Then I'd say that Mrs. Tolstoy served her husband above and beyond the call of duty Actually, though, they didn't have computers back then, and writing was really simply a question of getting out the old quill pen and some ink. That's a method that has worked for me. I'm fortunate in that I've got two wonderful typists, one here and one in England. They transcribe my hieroglyphics into something that's readable.
MAM:
You're touring now as part of the HARVEST OF EVIL promotion. How's it going, so far?
CB:
I start in 3 weeks. First I'll be touring in the United States and Canada, and then it's on to England.
MAM:
Do you like meeting the fans?
CB:
Absolutely. I love going to the conventions and meeting the readers. To see their excitement and enthusiasm is fun. It's the exact same thing in the bookstores. Some authors may think that it's a chore, and will only scribble their initials in the book. I try to learn the name of the person I'm signing the book for. The central relationship for me is with my readers. What good is your story if it exists in a vacuum? The readers validate me as an individual. They are absolutely the central focus in my life.
I feel that the readers are the co-creators of the books they read. The books are created twice. Once, in the imagination of the author while writing the book, and the second time in the imagination of the reader as he reads it. Novels are different from one person to another. Readers cast the movie's characters in their mind's eye.
Films are right there in front of you. It's a more concrete art form. Your experience of going to see Terminator2 will be exactly the same as my experience of going to see Terminator 2.
MAM:
What do you think about the Epic Comics adaptations of WEAVEWORLD and NIGHTBREED?
CB:
Well, if you ask Marcus McLaurin or Tom Daning they'll tell you that I do show more than simply a passing in-terest In the books. I've been a fan of comics since my early teens, and ex-cept for 2 or 3 years where I decided I didn't want to read them... I call It the Dark Ages... I've enjoyed them ever since. I couldn't live without comics.
I've been a longtime fan of the American comics, and now like many of the Euro-pean comics, like Heavy Metal.
I did not read the EC Comics, not in Liverpool, 501 was not exposed to them until much later. I enjoyed the super hero stuff. The early Marvel stuff, some DC, although not as much...l do not say that because of this MARVEL AGE Interview, by the way.
So I'm very enthusiastic, seeing my mythologies In comic book form. In both HELLRAISER and NIGHTBREED, I see it as an invitation to creators to redefine and reshape the pre-existing mythologies. There has been a wonder-ful breadth of responses from the creators.
They've just added a new addendum, which will extend the mythology even more, allowing for a wider breadth of stories. I think it's very exciting to see my ideas and characters in new and fresh ways. Some of the stories are erotic, some are sociological, some have a political sense. It looks great, too, the artists are really in top form.
MAM:
What's the new BOOK OF THE DAMNED book and how does it relate to the other HELLRAISER books?
CB:
This book takes the HELLRAISER world, and expands it exponentially. There are new Cenobites, a new sense of the laws and regulations of Hell. This book guides the reader through the interrelated levels of reality. It's a map to the HELLRAISER mythos. It's the Ideal companion to the worlds of HELLRAISER.
MAM:
Weaveworld and Cabal are both such highly detailed novels. It's amaz-ing they were able to adapt the work into comics form at all. Do you find it difficult to adapt your works into screenplays?
CB:
Well, Mike, you have to look at them as a different animal. Sometimes you'll be at a movie with some friends, and as you leave the theater somebody says, "it was nothing like the book." Well of course - it's a movie I think comics are the same in that respect. They are going to be different.
It's nonsense to demand that an adaptation follows the original work too closely. The medium of comics makes different demands on the adapter. It is a whole other experience in the making and the reading. So try not to be one to say, "you must adapt this story word for word." It's really up to others to interpret the text from which it's adapted.
It isn't as If the original book no longer exists. It's right there on the shelf, waiting for you. And maybe if a person who's unfamiliar with my work reads one of the comics, they'll be curious enough to pick up one of the novels. So nobody really comes out bad. The comic book creators bring visual creativity to it, and the readers get what they want.
MAM:
Do you have any big screen projects coming up?
CB:
Yes. I have a top secret screenplay at Universal. It's a science-fiction pic-ture, and I'm also executive producing for Propoganda Pictures. It's called Candyman, directed by Bernard Rose. adapted it from my story The Forbidden. Then of course, even though I had nothing to do with it, is Hellraiser III: Hell on Earth, which Is Pinhead's triumphant return to the silver screen. Then of course, there's the secret projects.
| Part 2 |
Disclaimer: This page was created for the purpose of enjoyment and education. It is not my intent to infringe upon copyrights or trademarks. Alterations will be made upon request.