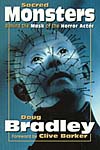 Actor Doug Bradley, who portrayed the terrifying character Pinhead in Clive Barker's Hellraiser series of films, provides a unique and personal guide to cinema monsters and the men who portrayed them. He also briefly examines the cultural and dramatic history of the mask, from cave art through Greek theatre to trick or treat.
In addition to the classic horror actors Lon Chaney and Boris Karloff, such unforgettable characters as the Wolf Man, The Phantom of the Opera and The Hunchback of Notre Dame are covered in detail. Bradley also discusses the European tradition, such as Jean Marais's beast in La Belle et la Bete, and work of Vincent Price and the Hammer films of the fifties and sixties.

Bringing the subject up to date, he looks at modern day monsters such as Leatherface from The Texas Chainsaw Massacre, Freddie from A Nightmare on Elm Street, Jason from Friday the 13th, Michael from Halloween and, of course, the creation of Pinhead. He gives his own account of exactly how it feels to be the man behind the mask.
Book release by Titan Books.
ISBN # 1852867051
Only released in England