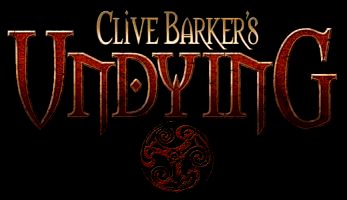 Clive's Involvement
"Undying" is a dark saga of a dangerous family of immortals in 19th century Ireland and how they came by their powers and deal with creatures from other dimensions. It encompasses Celtic folklore, Gothic elements, and features "a large family with more secrets than the Kennedys and a good deal darker." Clive is developed the mythology for the story conceived by DreamWorks Interactive, a wholly owned subsidiary of Electronic Arts.

"It's not one of those chase-the-bugs-around-and-shot-it games," said Clive, who added that he has long been interested in creating interactive computer games. "They were quite a ways down the line with a game that had a flavor that I liked. They were having problems with the narrative. Once I got involved, it was very exciting. it was like throwing myself in the deep end of the pool."



Clive's voice will be featured as one of the Covenant family members Ambrose. He did the voice recording the end of November 2000 at soundelux in Hollywood.

click on Clive to hear a Real Audio sample of him reading for Ambrose.
Artwork for Ambrose
(the character Clive did the
voice for)

Actual Screen shot of Ambrose
from the game