RAWHEAD REX

Released: 1987
Rated: R
Run time: 89 minutes
Released by Vestron Video
ISBN # 0-8051-0437-2
Order Online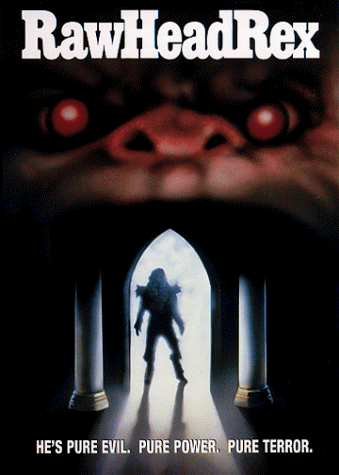 Clive's second screenplay and the first of "The Books of Blood" short stories to find it's way to celluloid. Though anyone who has asked Clive, you will have known that it is not ranked among one of his favorite movie adaptions. The movie, directed by George Pavlou, does it's best to stay true to Clive's initial vision of the Rawhead story. The main downfall of the movie is the FX's failure to construct a Rawhead that resembles that of the story (Rawhead's face: "It was huge, like the harvest moon, huge and amber. But this moon had eyes that burned in its pallid, pitted face. They were for all the world like wounds, those eyes, as though somebody had gouged them in the flesh of Rawhead's face then set two candles to flicker in the holes." Rawhead's mouth: "God, that mouth. It was so wide, so cavernous it seemed to split the head in two as it opened." from Clive Barker's Rawhead Rex.)
A few of the stories memorable moments did make it into the film; the devouring (not visual) of Howard Hallenbeck's son and the baptism of Declan Ewan to name a few. The movie stars David Dukes and Kelly Piper and is produced by Kevin Attew and Don Hawkins. It's executive producers were Al Burgess and Paul Gwynn. The movie was produced by Empire Pictures.
Cast

David Dukes

- Howard Hallenbeck

Kelly Piper

- Elaine Hallenbeck

Cora Lunny

- Minty Hallenbeck

Ronan Wilmot

- Declan O'Brien

Niall Toibin

- Reverend Coot

Niall O'Brien

- Det. Insp. Isaac Gissing

Heinrich von Schellendorf

- Rawhead Rex

Donal McCann

- Tom Garron

Eleanor Feely

- Jenny Nicholson

Gladys Sheehan

- Ena Benedict

Gerry Walsh

- Dennis McHugh

Noel O'Donovan

- Mitch Harney

John Olohan

- Dennis Nicholson

Peter Donovan

- Liam Blanchfield

Production Team

Kevin Attew

- Producer

George Pavlou

- Director

Clive Barker

- Screenwriter

Ford Ford

- Co-Producer

Don Hawkins

- Co-Producer

Colin Towns

- Music

John Metcalfe

- Cinematographer

Len Huntingford

- Art Direction

Gerry Johnston

- Special Effects

Consolata Boyle

- Costume Design

Peter Brayham

- Stunts

Juliet Avola

- Post-production

Des Whelan

- Focus puller
A true treat for all the true Clive Barker acolytes in the world, but none the less not one of the greats.
Rawhead Rex (1987)
Rated R
• Region 1 encoding (US and Canada only)
• Color, Dolby
Place Order
Rawhead Rex (1987)
Rated R
• NTSC format (US and Canada only)
• Color, NTSC
Place Order