Released: 1990
Released by: Fox
Rated: R
Running time: 102 minutes
ISBN # 1-55873-694-8
NOW ON DVD!!
ORDER ONLINE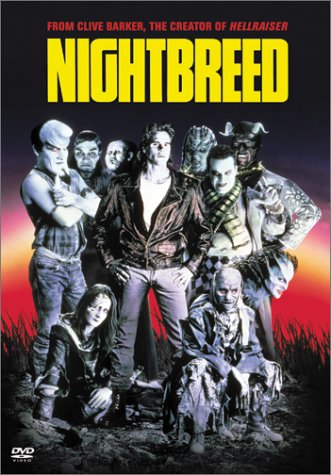 Enter a netherworld of darkness and terror as horror maven Clive Barker (Hellraiser) takes you on an unforgettable jouney to fear and and back. Welcome to the Nightbreed!
Far below the waking world lies the secret lost city of Midian, a subterranean haven for a socity of dead souls called the Nightbreed. Boone (Craig Sseffer) is a psychiatric patient haunted by his own cold-blooded psychiatrist Dr. Decker (David Cronenberg), Boone discovers Midian and joins the hidden tribes of the night. As the police and Decker close in on Midian, Boone realizes that his personal destiny is to this supernatueral city againt the living world that seeks to destroy it.
Basing the script on his novel Cabal, horror-meister Clive Barker, in his sophomore effort as a director, tells the strange and sometimes gory tale of a young Canadian who inadvertently tangles with the Night Breed, a demonic race that inhabits an ancient graveyard said to have the power to forgive transgressors of their sins.
---

Synopsis

Craig Sheffer plays Boone, a young man in Calgary, Canada, who dreams about monsters chasing him through a field near an imaginary place called Midian. That's a step up, since he had been dreaming about mass murders that had a nasty habit of also occurring in real life. But we're hardly reassured about Boone's prognosis when we find out that his psychiatrist is none other than David Cronenberg, (the real-life director of THE FLY and DEAD RINGERS). Playing the devious Dr. Decker, Cronenberg gives Boone some little pills that will "calm him down." Instead, Boone is found wandering in traffic and babbling incoherently. At the hospital, a doctor casually informs him that Decker's medicine is actually a strong hallucinogenic. Meanwhile, yet another mass murder Boone described to Decker has occurred, and Decker is busying himself with violating patient-doctor confidence by prodding the police into arresting Boone. It turns out that Midian actually exists, and prior to ripping off his face on-camera, a fellow patient conveniently reveals to Boone its location, just a short scenic drive from Calgary. Escaping from the hospital, Boone heads there. The police follow him, kill him, and bring his body back. Boone rises from the dead and hightails it back to Midian, where he is welcomed by the title's beasts, who are actually shape-shifters. Back in Calgary, Lori (Anne Bobby), Boone's girl friend, becomes obsessed with seeing the place where Boone died. So she sets out for Midian--followed, again, by Decker, who is himself obsessed with destroying the night breeders. To aid him in his crusade, Decker enlists a redneck sheriff (Charles Haid), helping to turn NIGHTBREED into a touching allegory about intolerance along the way.





Related Images **Under Construction**

Cast

David Cronenberg

- Dr. Philip Decker

Charles Haid

- Capt. Eigerman

Craig Sheffer

- Aaron Boone

John Agar

- Special Appearance

Simon Bamford

- Ohnaka

Tony Bluto

- Leroy Gomm

Anne Bobby

- Lori

Doug Bradley

- Lylesberg

Catherine Chevalier

- Rachel

Alan Harris

- Stand-Ins

Lindsay Holiday

- Morgue Assistant

Stephen Hoye

- Gibbs

Daniel Kash

- Labowitz

Bradley Lavelle

- Cormack

Eric Loren

- Ambush Cop

Peter Marinker

- Pathologist

Ted Maynard

- Bartender

Mac McDonald

- Lou Rickman

Kenneth Nelson

- Emergency Doctor

Norton S. Parker

- Poloquin

Oliver Parker

- Peloquin

Hugh Quarshie

- Detective Joyce

Hugh Ross

- Narcisse

George Roth

- Kane

Bob Sessions

- Pettine

Malcolm Smith

- Ashberry

Todd Thaler

Mitch Webb

- Jail Cell Doctor

Deborah Weston

- Sheryl Ann

David Young

- Otis and Clay

Production Team

Clive Barker

- Director, Screenwriter

David Barron

- Assoc.Producer

Danny Elfman

- Music

Christopher Figg

- Producer

Marie France

- Costumes

Tony Gardner

- Makeup

Mark Goldblatt

- Film Editor

Steve Hardie

- Production Designer

Ann Hollowood

- Costumes

Image Animation

- Makeup

Bob Keen

- Makeup

Richard Marden

- Film Editor

Gabriella Martinelli

- Producer

Bruce Nyznik

- Music Director

Geoff Portass

- Makeup

James G. Robinson

- Producer

Joe Roth

- Producer

Robin Vidgeon

- Cinematographer

Shirley Walker

- Music
Nightbreed
Rated R
Edition Details:
• Region 1 encoding (US and Canada only)
• Color, Closed-captioned, Widescreen, Dolby
Place Order
Nightbreed
Rated R
Edition Details:
• NTSC format (for use in US and Canada only)
• Color, NTSC
Place Order