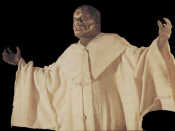 Rated: R / Director's Cut: unrated
Copyright 1995
Released by: MGM/UA
Running time: Approx 121 Min
ISBN 0-79828-2809-7
Order Online
Synopsis
Adapted from his novella The Last Illusion, this film from horror author Clive Barker is an effectively chilling marriage of the supernatural and noir genres.
In 1982, Philip Swann (Kevin J. O'Connor), a follower of demonic cult leader Nix (Daniel Von Bargen), leads a group of his fellow devotees in killing and burying the evil guru before he can sacrifice a young girl. In the present day, private eye Harry D'Amour (Scott Bakula) travels from New York to Los Angeles on an insurance fraud case, only to stumble upon one of Nix's former cultists being mutilated by another. Some of the group are intent on raising Nix from the dead, and Dorothea Swann (Famke Janssen), the would-be sacrifice now grown up and married to her savior, hires Harry to look after Philip, now a famous magician. But during one of his performances, Philip is killed by falling swords when an escape trick goes wrong.
The cultists continue to threaten Dorothea, and in the course of protecting her, Harry winds up romantically involved with her. It soon transpires, however, that Philip is still alive, having faked his own death to escape the wrath of Nix's followers. That doesn't stop them from disinterring Nix and reviving him at his old haunt in the desert, where he repays the favor by killing them all. He then turns on Dorothea and Harry, who is powerless against his black magic; it falls to Philip to invoke his own supernatural talents and send Nix to hell forever.
MAIN LORD OF ILLUSIONS PAGE
Cast

Scott Bakula

- Harry D'Amour

J. Trevor Edmond

- Young Butterfield

Wayne Grace

- Loomis

Famke Janssen

- Dorothea

Joseph Latimore

- Caspar Quaid

Kevin J. O'Connor

- Philip Swann

Vincent Schiavelli

- Vinovich

Joel Sweto

- Valentin

Sheila Tousey

- Jennifer Desiderio

Susan Traylor

- Marueen Pimm

Daniel Von Bargen

- Nix

Production Team

Clive Barker

- Producer, Director, Screenwriter

Steve Golin

- Producer

Joanne Sellar

- Producer

Sigurjon Sighvatsson

- Producer

Ron Schmidt

- Cinematographer

Simon Boswell

- Music and Lyrics, Music

Allan E. Baumgarten

- Film Editor

Steve Hardie

- Production Designer

Marc Fisichella

- Art Director

Bruce Hill

- Art Director

Anna C. Miller

- Assoc.Producer

Stephen Halbert

- Music Director, Sound

David Koneff

- Set Decoration

Luke Reichle

- Costumes

Thomas C. Rainone

- Makeup, Supervisor

Lou Carlucci

- Special Effects

Benita Allen

- Assis.Director

Sharon Howard-Field

- Casting
Cabal/Lord of the Illusions ~ Usually ships in 24 hours
Mass Market Paperback / Published 1996
The short story The Last Illusion was the basis for the movie Lord of Illusions
Place Order
Lord of Illusions (1995) Director's cut
Unrated
• Commentary by director/writer Clive Barker
• Theatrical trailer(s)
• Never before seen footage
• Introductory letter by Clive Barker
• 8-page booklet featuring trivia, production notes and a revealing look behind the scenes
Place Order
Lord of Illusions (1995)
Rated
• Region 2 encoding (Europe, Middle East & Japan only)
• PAL

Place Order
Lord of Illusions (1995)
Unrated Director's cut
• NTSC format (for use in US and Canada only)
• Color, Closed-captioned, HiFi Sound, NTSC
Place Order
Lord of Illusions (1995) (Spanish Subtitled)
Rated R
• NTSC format (for use in US and Canada only)
• Subtitles in Spanish
• Color, HiFi Sound, Surround Sound, Digital Sound, NTSC
Place Order
Lord of Illusions (1995)
Rated R
• NTSC format (for use in US and Canada only)
• Color, Closed-captioned, HiFi Sound, NTSC
Place Order