Released: 1988
Released by: New World
Rated: R
Running time: 96 Min
Order On-line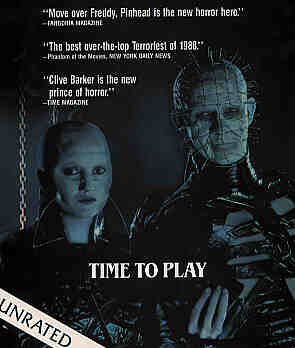 For Kirsty Cotton (Ashley Laurence), the nightmares never end. Still fresh in her fevered memory are her father's skinned corpse, the evil machinations of her Uncle Frank's re-animated body, and the unspeakable perversity of the Cenobites. But for Kirsty, the worst is yet to come. From beyond the Outer Darkness, from the darkest reaches of the imagination comesHELLBOUND: HELLRAISER II.
Dr. Channard re-opens the channel between dimensions, making an unholy alliance that will once again propel Kirsty into the horrifying world beyond. And for a second time, she must confront the dark desires of the demonic Cenobites and the awesome power of their master, Leviathan, Lord of Hell's Labyrinth.
Between this world and the next, between the extreme pleasure and excruciating pain, between salvation and utter horror, there is HELLBOUND: HELLRAISER II.
---

Synopsis

Picking up a mere two hours after HELLRAISER left off, the sequel finds young Kirsty (Laurence) in a mental hospital in the aftermath of the horrific events she witnessed at the first film's climax. Her case comes to the attention of psychiatrist Dr. Channard (Cranham), whose rational exterior masks a darker side. Soon the doctor and patient, along with Laurence's evil stepmother, Julia (Higgins)--brought back from the dead by Dr. Channard --and autistic patient Tiffany (Boorman), find themselves in hell for more adventures with those nasty ghouls, the Cenobites.




Related Images **Under Construction**



Movie Trailer
Cast

Imogen Boorman

- Tiffany

Doug Bradley

- Pinhead

Sean Chapman

- Uncle Frank

Kenneth Cranham

- Dr. Channard

Claire Higgins

- Julia

William Hope

- Kyle Macrae

Ashley Laurence

- Kirsty Cotton

Simon Bamford

- Butterball Cenobite

Catherine Chevalier

- Tiffany's Mother

Edwin Craig

- Wheelchair Patient

Bradley Lavelle

- Officer Kucich

Angus MacInnes

- Ronson

Oliver Parker

- Workman 2

Oliver Smith

- Browning

Ron Travis

- Workman 1

Nicholas Vince

- Chatterer

Barbie Wilde

- Female Cenobite

Production Team

Tony Randel

- Director

Clive Barker

- Producer

Christopher Figg

- Producer

Christopher Webster

- Producer

Peter Atkins

- Screenwriter

Robin Vidgeon

- Cinematographer

Christopher Young

- Music

Richard Marden

- Film Editor

Andy Harris

- Art Director

Michael Buchanan

- Production Designer

Geoff Portass

- Special Effects
Hellbound Hellraiser II
Unrated
• Region 1 encoding (US and Canada only)
• Color, Closed-captioned, THX, Widescreen, Dolby
• Commentary by director Tony Randel, star Ashley Laurence and witer Peter Atkins
• Theatrical trailer(s)
• Featurette: Lost In The Labyrinth produced by Clive Barker
• Still Gallery
• Full-screen and widescreen anamorphic formats
Place Order
Hellbound Hellraiser II
Rated
• Region 2 encoding (Europe, Middle East & Japan only)
• PAL
Place Order
Hellbound: Hellraiser 2 (1988)
Unrated
• NTSC format (US and Canada only)
• Color, Special Edition, NTSC
Place Order
Hellbound Hellraiser II
Rated R
• All Regions
• Color, HiFi Sound, Widescreen
• Widescreen letterbox format
Place Order
Hellbound Hellraiser II
Unrated
• NTSC format (US and Canada only)
• Color, NTSC
Place Order