Released: 1987
Released by: New World
Rated: R
Running Time: 90 Min
Order Online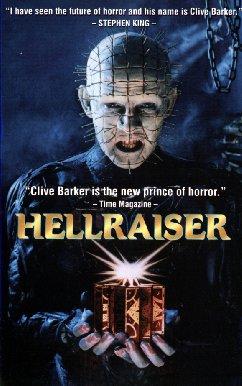 In 1986, critically acclaimed and celebrated author Clive Barker directed his first feature film which has since become a modern horror classic. Clive Barker's Hellraiser introduced some of the most frightening and sophisticated images of horror to ever grace the silver screen. No film has ever gripped the imagination so shockingly nor presented such nightmarish characters, deeds, monsters, and ideas which go so far beyond the realm of horror filmaking and fiction.
From beyond the Outer Darkness. From the nightmarish realm of imagination. From the mind of the horror-master extraordinaire, Clive Barker, comes Hellraiser -- there are no limits.
---

Synopsis

Frank (Sean Chapman), a sexual adventurer in search of new carnal pleasures, purchases a mysterious Chinese puzzle box while visiting an unnamed Third World country. Back home in England, he opens the box only to discover that he has unlocked the door to hell. Frank is pulled into another dimension, whose inhabitants, known as Cenobites, push him over the fine line between pleasure and pain by ripping him apart with tiny fish hooks. Years later, Frank's brother, Larry (Andrew Robinson), moves his family into the house--to which, through some blood spilled on the attic floor, Frank returns in near-skeletal form. With the help of sister-in-law Julia (Clare Higgins)--with whom he once had an affair--Frank begins sucking the life out of bodies in order to regenerate to his old form. Meanwhile, Larry's daughter from a previous marriage, Kirsty (Ashley Laurence), begins to suspect her hated stepmother of having an affair, and to her horror becomes involved with Frank, the puzzle box and the Cenobites.



Cast

Sean Chapman

- Frank Cotton

Claire Higgins

- Julia Cotton

Robert Hines

- Steve

Ashley Laurence

- Kirsty Cotton

Andrew Robinson

- Larry Cotton

Oliver Smith

- Frank the Monster

Dave Atkins

- Moving Man

Simon Bamford

- Butterball Cenobite

Gay Baynes

- Evelyn

Doug Bradley

- Pinhead

Grace Kirby

- Female Cenobite

Kenneth Nelson

- Bill

Norton S. Parker

- Moving Man

Oliver Parker

- Moving Man 2

Nicholas Vince

- Chattering Cenobite

Production Team

Clive Barker

- Director, Screenwriter

Christopher Figg

- Producer

David Saunders

- Producer

Christopher Webster

- Producer

Robin Vidgeon

- Cinematographer

Christopher Young

- Music

Richard Marden

- Film Editor

Jocelyn James

- Art Director, Production Designer

Michael Buchanan

- Production Designer

Jim Dowdall

- Stunts

Joanna Johnston

- Costumes

Bob Keen

- Special Effects

Sally Sutton

- Makeup

Francis Witt

- Music Director
The Hellbound Heart ~ Usually ships in 24 hours
Mass Market Paperback / Published 1996
The novella was the basis for the movie Hellraiser
Place Order
Hellraiser
Rated R
• Region 1 encoding (US and Canada only)
• Color, Closed-captioned, THX, Widescreen
• Theatrical trailer(s)
• Audio Commentary with Writer/Director Clive Barker and Star Ashley Laurence
• Featurette: Resurrection
• Still Gallery
• Full-screen and widescreen anamorphic formats
Place Order
Hellraiser
Rated
• Region 2 encoding (Europe, Middle East & Japan only)
• PAL

Place Order
Hellraiser (1987)
Rated R
• NTSC format (for use in US and Canada only)
• Color, Special Edition, NTSC
Place Order
Hellraiser - Collector's Edition (1994)
Rated R
• NTSC format (for use in US and Canada only)
• Color, Widescreen, Special Edition, NTSC
• Number of tapes: 2
Place Order
Hellraiser
Rated R
• Region 1 encoding (for use in US and Canada only)
• Color, HiFi Sound, Widescreen
• Widescreen letterbox format
Place Order