For more than 100 years, Ebenezer Scrooge was the most dreaded name in Christmas stories.
That was before the Yattering
– a demon with a cause–
decided to make Jack Polo's life sheer hell.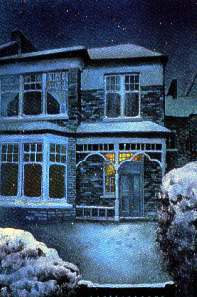 A new dark fantasy graphic novel from the bestselling author of Imagica and The Great and Secret Show –
Christmas will never be the same again!
---
Adapted by:

Steve Niles

Illustrated by:

John Bolton

Editors:

Fred Burke
Valerie Jones
The Yattring and Jack © 1991 Clive Barker
$22.95 USA / $27.55 CAN (hardcover)
Published by Eclipse Books
60 Pages
ISBN # 1-56060-147-7 (softcover)
ISBN # 1-56060-127-2 (hardcover)
ISBN # 1-56060-148-5 (lmt ed hardcover)