June 2, 1955
Buck and Sadie Durning check into
the Cottonwood Motel.
Buck Durning never checks out.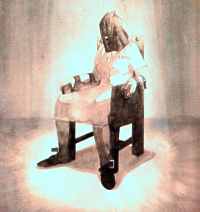 Four months later, Sadie
Durning is executed.
For her husband's murder.
June 2, 1985
John and Virginia Gyer check into the Cottonwood Motel, where the ghosts of Buck and Sadie have returned to relive the fateful drama of three decades before.
It is to be a night of ...

Acclaimed fantasist Clive Barker brings us a ghost story of compelling violence and haunting beautty, in which the visions of a Christian evanhelist and the dreams of his pill-popping wife do battle on a night that can only end in tragedy.
---
| | |
| --- | --- |
| Adapted by: | Steve Niles |
| Illustrated by: | Lionel Talaro |
Revelations © 1992 Clive Barker
$7.95 USA / $9.25 CAN
Published by Eclipse Books
62 Pages
ISBN # 1-56060-129-9