FROM THE WICKED IMAGINATION OF
CLIVE BARKER
COMES A HORRIFIC TALE OF A THEATRE STALKED BY THE MOST FAMOUS MOVIE STARS OF OUR TIME!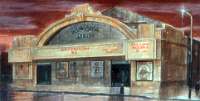 When an escaped convict commits murder and finds his way to a decaying movie palace, he cannot know that his own life is about to end, while the dreams of a half decade's moviegoers are just beginning. For this convict's cancerous tumor refuses to die, and the angels of the cinema can grant mirages — and — nightmares of their own.
In a world that has given up God for Garbo, life may be nothing more than an endless series of flickering images — and death the only refuge from the ..Son of Celluloid.
---
| | |
| --- | --- |
| Adapted by: | Steve Niles |
| Illustrated by: | Les Edwards |
| Editor: | Fred Burke |
Son of Celluloid © 1991 Clive Barker
$6.95 USA / $8.25 CAN
Published by Eclipse Books
60 Pages
ISBN 1-56060-085-3